August 3-6, 2022
Pipestone County Fairgrounds - Pipestone, MN.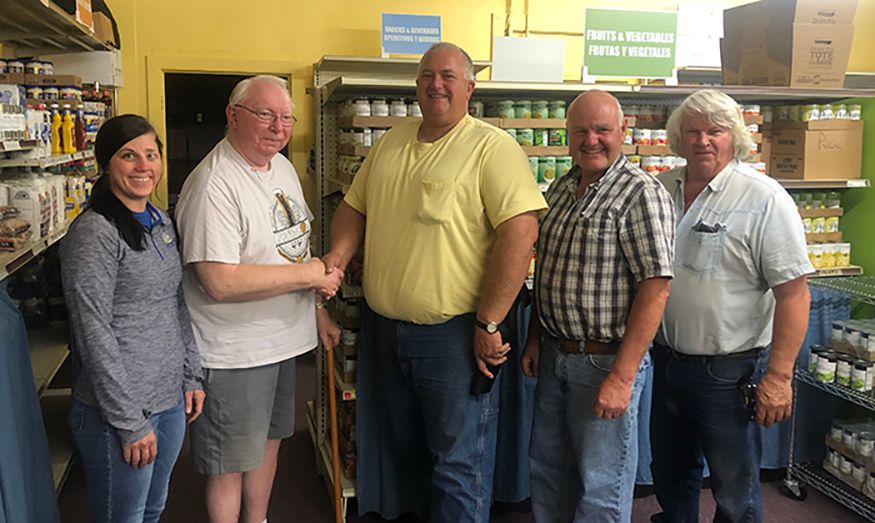 Fair Board Donates to local Food Shelf
Members of the Pipestone County Fair Board presented a donation of $552.00 to the Pipestone County Area Food Shelf. The funds were raised through a free-will donation to attend the antique and modern tractor pull held during the opening night of the county fair.  Food Shelf director Rodger Raschke (second from left) accepted the donation from fair board president Skip Moeller.
Grandstand Events
Main events in the grandstand Thursday, Friday and Saturday evenings
2022 Gounds and Grandstand Event Schedule
PDF
Click the image at left to view and download a complete copy of the 2022 Pipestone County Fair Premium book.
You can also read the book online with this e-edition link.
Midway advance ride tickets on sale
Stroll the Midway
Buy Early & Save!
6 Rides for $20.00
Pick up Advance Tickets at:
Coborn's
Hank's Foods
Camber of Commerce
Non-Livestock Entry Form
PDF
Click the link to download a PDF copy of the 2022 Pipestone County Fair entry form. Once downloaded, you can print a copy then mail your completed form to the address at the top. The deadline is July 25, so get organized and enter on time.
Coloring Contest
PDF
Department N, CLASS F - Coloring Contest
Winners in each category will receive a gift of school supplies & each coloring contest exhibitor will receive a box of colors or colored pencils.

To Enter:  download this color page (PDF), print a copy, color, and mail in with your  completed entry form.  The entry form is available in the printed book or can be downloaded above.

Lot 1: Age 3 to 4 Years
Lot 2: Age 5 to 6 Years
Lot 3: Age 7 to 8 Years
Lot 4: Age 9 to 10 Years